NJ's Certified Artificial Turf Impact Test Experts
When an athlete falls on a synthetic turf field, the level of injury depends largely on how much impact is absorbed by the athlete's body versus the playing field. The less impact absorbed by the turf field, the more risk of field impact injury to the athlete. SportCare is the only factory-trained and authorized independent contractor in northern and central New Jersey for impact safety testing of indoor and outdoor turf sports fields. With 15 years of experience in professional artificial turf management, the certified experts at SportCare are uniquely qualified to ensure that your turf sports fields are safe for play.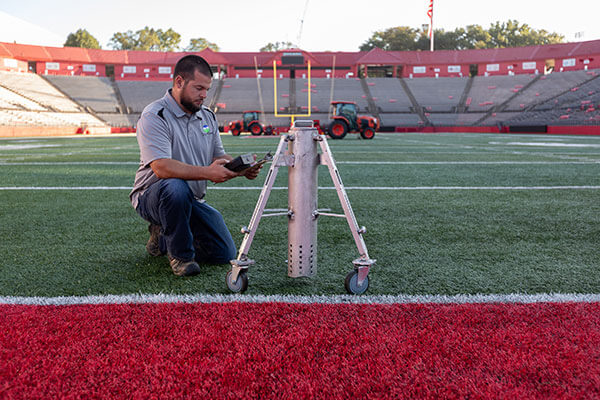 GMAX
What is
Gmax

Impact Testing?

Impact testing (also referred to as gmax testing) measures how well your indoor or outdoor artificial turf fields absorb shock. The higher the g-max value, the less capable a field's surface is of absorbing impact. The experts at SportCare are familiar with all ASTM g-max testing standards and will use specialized electronic impact testing equipment to assess the impact attenuation of different areas of your synthetic turf fields. For artificial playing surfaces, ASTM requires that the gmax value for every point tested on the field be less than 200g's. Areas of the field whose gmax values exceed 200g's are considered to be unsafe for play and in need of remediation. Protect your athletes and limit your school or township's liability by depending on the experts at SportCare for accurate gmax impact testing of your synthetic turf fields.
Why is Sports Field
Safety Testing Important

?

As a sports field manager, you are obligated to provide athletes with safe playing fields. Impact safety testing provides you with several benefits that align with that goal:
Help Prevent Injuries
Field impact is a significant cause of concussions and other severe injuries among athletes. Making sure your turf sports fields have adequate impact absorbance can help protect your players from life-threatening head injuries. Systematic gmax safety testing allows you to see significant changes in the impact-absorbance of your artificial turf fields over time. This type of data enables you to anticipate developing safety issues before they contribute to severe field impact injuries. SportCare can provide you with accurate impact test results to help you protect your athletes by taking action to repair and rejuvenate your turf fields.
Avoid Turf Field Down Time
Avoid last-minute safety issues and field shutdowns by having SportCare safety test your artificial turf fields regularly. Impact absorbance issues on synthetic turf fields typically develop steadily over time. Having a historical record of gmax test results can help you anticipate problems before they become significant safety risks that cause an interruption in field usage.
Limit Your Liability
Making sure your fields meet all safety standards is an essential step in protecting your athletes. However, nothing can completely prevent sports injuries. When an athlete gets injured, having an official record of systematic gmax test results from SportCare demonstrates your commitment to synthetic turf field safety and can be critical when liability issues occur.

Depend on NJ's Certified

Gmax Testing

Specialists

Serving Northern and Central New Jersey
With over 15 years of experience as a factory-authorized synthetic turf field maintenance and repair specialist, SportCare is uniquely qualified to keep your artificial turf athletic fields safe and looking their best. As the only factory-authorized, independent turf field maintenance contractor in northern and central New Jersey, SportCare is relied on by manufacturers like AstroTurf, FieldTurf, A-Turf, and Shaw to inspect, repair, maintain and safety test their turf fields. Turf field service is the mainstay of our business-we don't sell turf fields, so we aren't distracted by large installation jobs. Don't allow your turf sports fields to be shut down due to safety hazards. Count on SportCare for expert, affordable synthetic turf services that will keep your sports fields in top condition!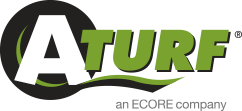 Get Started
Today!
Call (732) 560-8844 or email info@sportcaresfm.com today to learn how SportCare can help you keep your turf fields safe and playable.