A Full Line of Professional Turf Management Services
Schools and Recreation departments throughout northern and central New Jersey have depended on SportCare for over 15 years to provide them with comprehensive turf management services. We're the only independent contractor in New Jersey who is factory trained and authorized to provide you with a full range of synthetic turf maintenance and repair services, including: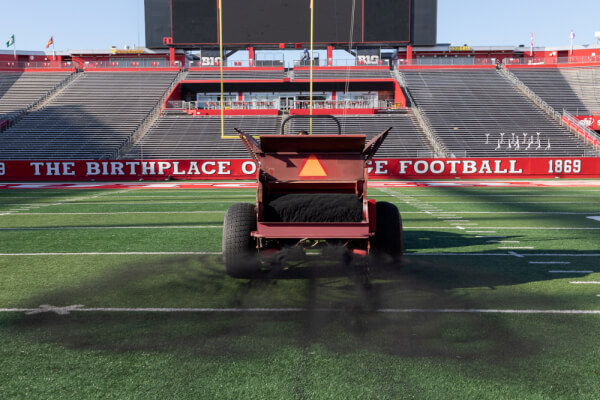 Artificial Turf Grooming and Crumb Rubber Replenishment (Top Dressing)
The crumb rubber infill of your synthetic turf field must be managed properly to keep your field safe for play. The layer of crumb rubber infill layer of turf fields tends to settle, shift, and become compacted with use over time, making the field's surface inconsistent and unstable. Our turf grooming experts use specialized turf field grooming equipment to restore the aesthetics and playability of your turf field and help prevent player injury. We'll straighten fibers, evenly redistribute the crumb rubber, loosen and soften the infill, and add infill when needed to maintain proper field firmness. Regular grooming not only allows us to keep your field looking good by removing loose fibers but also to reduce risk to athletes by eliminating surface contaminants (like bird droppings) and foreign objects (like hairpins).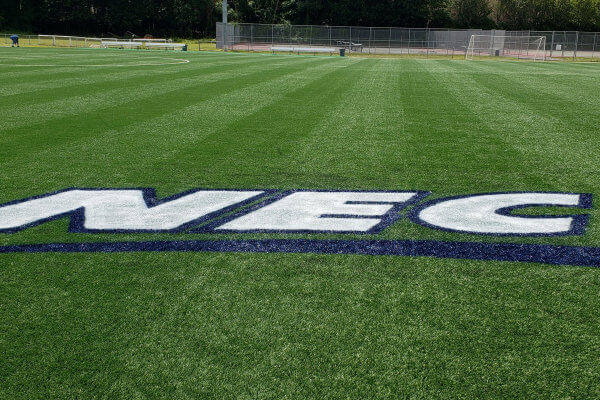 Turf Painting
Field line and logo painting using synthetic field paint.
Synthetic field paint is specifically made for synthetic turf and will not harm or damage the turf.
Using non-synthetic field paint can leave permanent marks on your synthetic field voiding warranty.
Lines and/or logos painted with removable synthetic field paint can be removed for different sports seasons.
Special event painting including retired numbers, tournament logos, sponsorship logos, field layouts for special events/tournament and custom logos.
Removal of paint due to vandalism and/or graffiti on the synthetic field.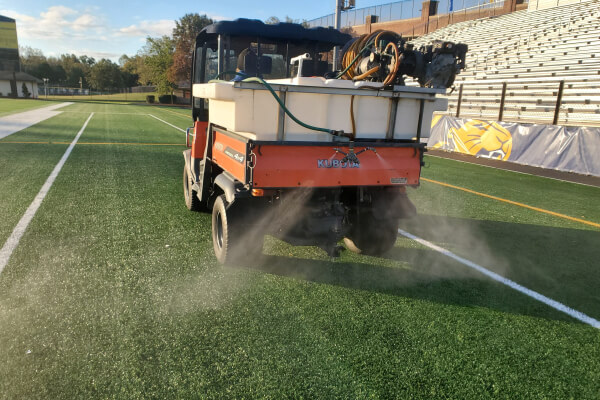 Disinfecting / Anti-static Spraying
Help promote team health by disinfecting your field to prevent germs and bacteria from getting your athletes sick. Indoor facilities are at a higher risk due to lack of natural cleansing, sun and the rain.
Are you experiencing a lot of rubber sticking to the blades of the turf? This is caused by static electricity and is easily remediated with an anti-static treatment. This helps break the static bond and allows the rubber to fall back into the turf where it belongs.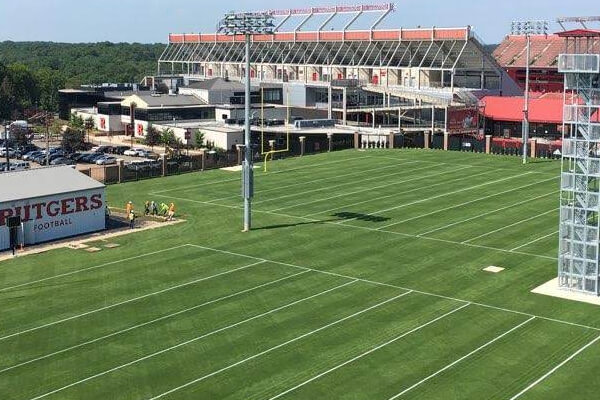 Natural Grass Field and Grounds Maintenance
SportCare offers maintenance programs for natural grass fields, recreation areas and school campus grounds. Our services include:
Infield installation, lip removal, infield grading, clay brick installation, pitcher's mound construction and reconstruction, batter's box construction, goal mouth repairs, winter turf blankets
Core and deep tine aeration, soils testing and amendments, fertilization, over-seeding, weed and insect control, and 'flight control' geese deterrent
Certified in NJ, NY and PA in Category 13
Painting of field lines and logos on natural grass
Sports equipment installation
Field snow plowing using appropriate turf tires
Organic products available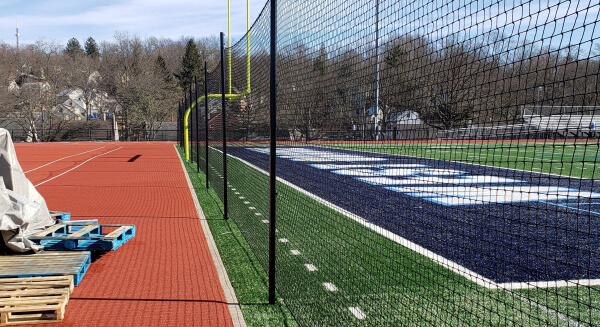 Sports Equipment Installation
Need a netting system installed on your turf field? Need to raise or lower your football goal post for the season? SportCare is able to assist grounds crews with any aspect of equipment installation.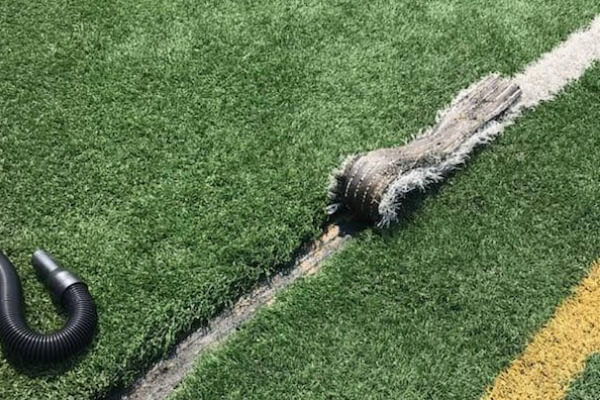 Emergency Repair Services
SportCare is committed to protecting your athletes and helping you avoid the inconvenience of rescheduling sporting events by ensuring that your turf fields are immediately safe for play. Turf field services are our only priority, allowing us to provide you with same-day emergency repair service. We'll provide emergency turf repair service to your school or recreation department, even if you aren't a current SportCare customer. Plus, we guarantee the quality of our repairs with a warranty!
Emergency?
If you need emergency service, please call (732) 560-8844.
Why You Need
Professional

Turf Services!
Protecting Your Investment and Your Team
Protect your investment and prolong the life of your synthetic turf fields with professional turf field services. Why risk damaging your turf field and causing a player to get sick or injured by attempting repairs, snow plowing, sports equipment installation or field disinfecting on your own? Why ruin the appearance of your field with an amateur paint job-or worse yet, ruin your turf surface by applying the wrong type of paint? The trained and experienced professionals at SportCare have the knowledge, equipment and expertise to help you keep your field looking great and performing at its best.

Complete Complement

of Turf Field Services

Serving Northern and Central New Jersey
From snow removal, turf painting, and sports equipment installation to turf field disinfecting and emergency turf repair, we're the turf management professionals trusted to keep synthetic athletic fields throughout New Jersey safe and playable. SportCare's experts can provide you with the services you need to help you avoid delays to your sports schedules by keeping your synthetic turf fields attractive and safe for play. When you need a turf management company that you can stake your reputation on, choose the factory-certified experts at SportCare.
Get Started
Today!
Call (732) 560-8844 or email info@sportcaresfm.com today to learn how SportCare can help you keep your turf fields safe and playable.